Соломенные сандалии
Администратор
Сообщения

695
Реакции

411

Cryptofuzz
https://github.com/guidovranken/cryptofuzz
https://guidovranken.com/2019/05/14/differential-fuzzing-of-cryptographic-libraries/
Cryptofuzz
is a project that fuzzes cryptographic libraries and compares their output in order to find implementation discrepancies. It's quite effective and has already found a lot of bugs.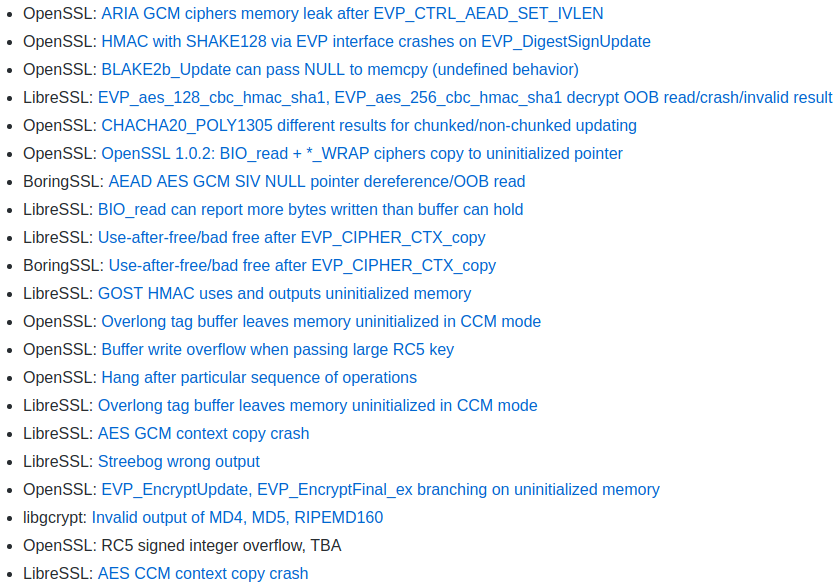 Bugs in cryptographic libraries found with Cryptofuzz
It's been running continually on Google's
OSS-Fuzz
for a while and most of the recent bugs were found by their machines.
Not all of these are security vulnerabilities, but some can be, depending on the way the API's are used by an application, the degree to which they allow and use untrusted input, and which output they store or send.
If there had been any previous white-hat testing or fuzzing effort of the same scope and depth, these bugs would have transpired sooner, so it's clear this project is filling a gap.
Another automated cryptography testing suite,
Project Wycheproof
by Google, takes a directed approach, with tailored tests mindful of cryptographic theory and historic weaknesses. Cryptofuzz is more opportunistic and generic, but more thorough in terms of raw code coverage.
Currently supported libraries are: OpenSSL, LibreSSL, BoringSSL, Crypto++, cppcrypto, some Bitcoin and Monero cryptographic code, Veracrypt cryptographic code, libgcrypt, libsodium, the Whirlpool reference implementation and small portions of Boost.
This is a modular system and the inclusion of any library is optional. Additionally, no library features are mandatory. Cryptofuzz works with whatever is available.
What it does
Detect memory, hang and crash bugs. Many cryptographic libraries are written in C, C++ and assembly language, which makes them susceptible to memory bugs like buffer overflows and using uninitialized memory. With the aid of sanitizers, many of these bugs become apparent. Language-agnostic programming errors like large or infinite loops and assertion failures can be detected as well. For example: Memory corruption after EVP_CIPHER_CTX_copy() with AES-GCM in BoringSSL.
Internal consistency testing. Libraries often provide multiple methods for performing a specific task. Cryptofuzz asserts that the end result is always the same irrespective of the computation method. This is a variant of differential testing. A result is not checked against another library, but asserted to be equivalent across multiple methods within the same library. For example: CHACHA20_POLY1305 different results for chunked/non-chunked updating in OpenSSL.
Multi-library differential testing. Given multiple distinct implementations of the same cryptographic primitive, and assuming that at least one is fully compliant with the canonical specification, deviations will be detected. For example: Wrong Streebog result in LibreSSL.
What it doesn't do
It does not detect timing or other side channels, misuse of the cryptographic API and misuse of cryptography. It will also not detect bugs involving very large inputs (eg. gigabytes). Asymmetric encryption is not yet supported.